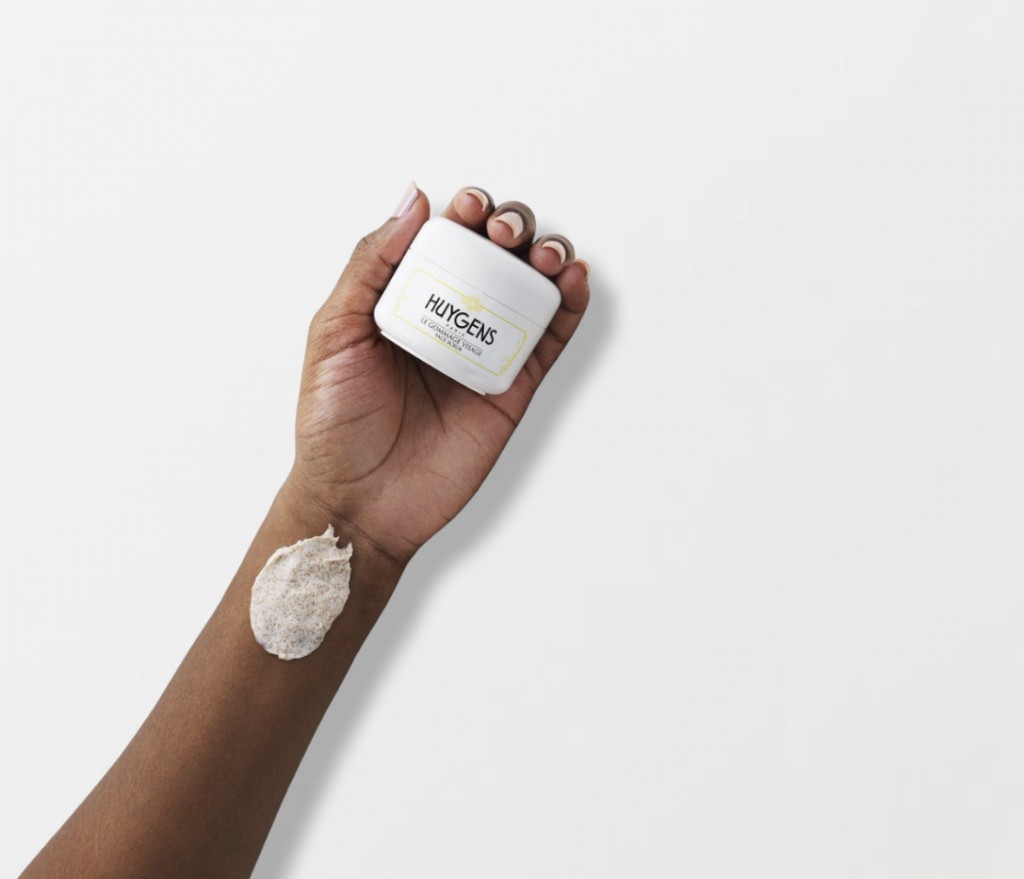 Facial scrub, a simple yet important gesture to boost the skin's radiance.  
What is a face scrub? 
A face scrub is an exfoliating skin treatment. It allows to clean the skin while removing the dead cells and impurities on the surface.  
Why use a facial scrub?  
Facial scrubs are good for the skin. This allows to clean it, by eliminating the impurities and dead cells present on its surface. As the face is a sensitive area, it is recommended to use gentle scrubs.  
The appearance of the skin is improved: the facial scrub refines the grain and purifies the skin.   
 
After exfoliation, the skin is soft, its radiance is enhanced and the pores are unclogged. Cosmetic treatments are absorbed more easily, which allows the skin to better assimilate the active ingredients.   
What type of face scrub?    
Grainy or "mechanical" scrub is applied manually using circular movements on the skin to exfoliate it. It is recommended that dry skin use gentle formulas with very thin grains.  
Chemical scrubs can be formulated with fruit acids, enzymes or salicylic acid, which will dissolve dead skin cells without the need to scrub.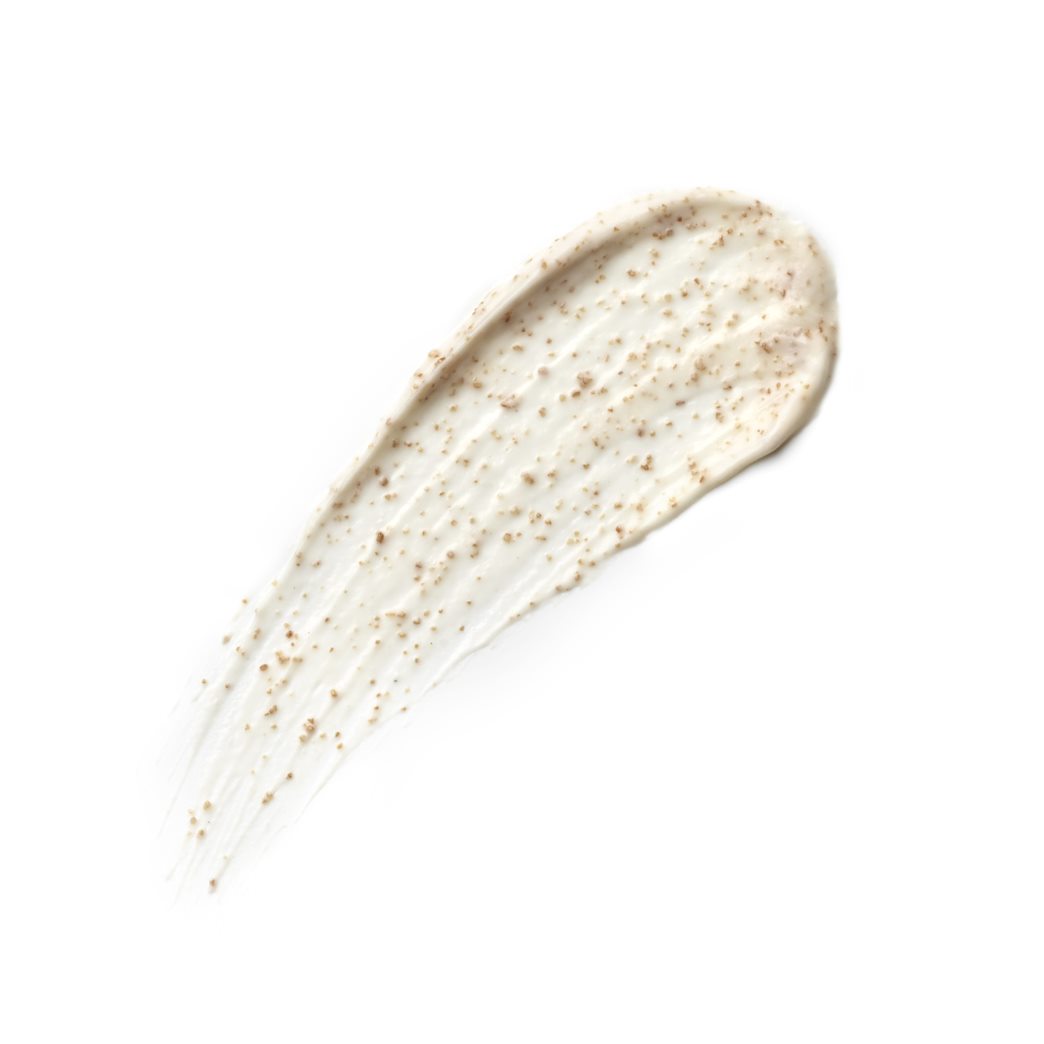 How to choose your face scrub?  
For the face, choose a scrub with very thin grains. Since the skin on the face is delicate and therefore more sensitive, it is advised to use scrubs with fine and soft grains, such as rice powder. 
Coarse-grained scrubs, such as salt, sugar, sand and crushed fruit stones, are generally suitable for the body.  
How to apply your face scrub? 
Apply a dab of your facial scrub on a cleansed and damp skin. Spread the texture all over your face with gentle and circular movements. This will gently exfoliate, stimulate the microcirculation and cell regeneration. Avoid the eye contour area, which is too sensitive for a facial scrub.   
 
Once your skin is exfoliated, wash your face with clear water and wipe your skin by gently dabbing with a towel.   
Finally, apply your moisturizer or mask. It is very important to moisturize and/or nourish your skin right after getting a facial scrub.   
 
How to get a proper face scrub?  
 
To get a good facial scrub, you have to choose the best formula adapted to your type of skin.  
Make sure to have your skin cleansed beforehand. For a better application, apply the facial scrub on a damp skin. Massage your face gently, with circular movements without rubbing.  
 
The face skin being thin, repeating movements with too much pressure can sometimes be harsh on the skin and irritating 
 
Focus on the T-zone, where the most impurities are accumulated.   
 
Done once or twice a week, the facial scrub will bring back your skin's radiance and softness.   
Once the scrub is done, moisturize your skin to soothe it and allow it to better assimilate the active ingredients it needs.   
When to do a face scrub?  
The ideal moment to get a facial scrub is the evening, after removing the make-up as a purifying action. To enhance the radiance of your skin, it is recommended to apply the facial scrub in the morning after getting your skin cleansed. If you have a dull complexion, a tired skin, the facial scrub will be a true ally. 
The day before sunbathing, get a skin scrub to obtain an even tan, which will last longer. However, is it very important to moisturize your skin and protect it while exposing it to the sun, in order not to weaken it. 
How often should a facial scrub be done?   
A scrub should not be done more than twice a week. Although exfoliation is beneficial for the skin of the face, if it is done too frequently, it could sensitize the skin. It is important not to exceed two applications per week.  
What is the difference between a facial scrub and a facial mask?   
A facial scrub is an exfoliating treatment that removes imperfections and dead cells from the skin's surface, unlike a mask, which is left on the skin to obtain results. Generally, we do not leave a scrub on the skin, it is advised to make circular movements on the whole face and then rinse it. 
 
The Huygens Organic Face Scrub   
The Huygens Face Scrub purifies the skin without drying it out thanks to its creamy texture with rice powder. Infused with green tea extract, this gentle scrub instantly reveals a healthy glow. Enriched with sesame oil, it nourishes the epidermis without any greasy effect.   
The great plus of this scrub? It nourishes the skin during exfoliation. Gel scrubs often dry out the skin, so it's a good idea to use an exfoliating cream as not to attack the skin's hydrolipidic barrier and preserve its balance.  
Huygens Face Scrub gently exfoliates the skin with thin ground rice powder. It effectively removes impurities without irritating the skin. Suitable for all skin types, Huygens Face Scrub is particularly appreciated by normal to dry skin.  
The Huygens Face Scrub is organic, vegan, cruelty-free and made in France.  
Which skincare to apply after a facial scrub?  
Choose the care to apply after your scrub according to your skin.   
 
For mixed and oily skin, apply L'Émulsion Visage Supernature or La Crème Visage Supernature. This anti-blemish line is enriched with plant salicylic acid, a BHA extracted from wintergreen, which refines skin texture and helps treat spots, redness and small imperfections.   
For dry and mature skin, opt for La Crème Visage Biologique Nouvel Âge or La Crème Visage Anti-Âge.
Related products

1 free discovery-sized skincare essential

Related Posts
Share this content
Add a comment