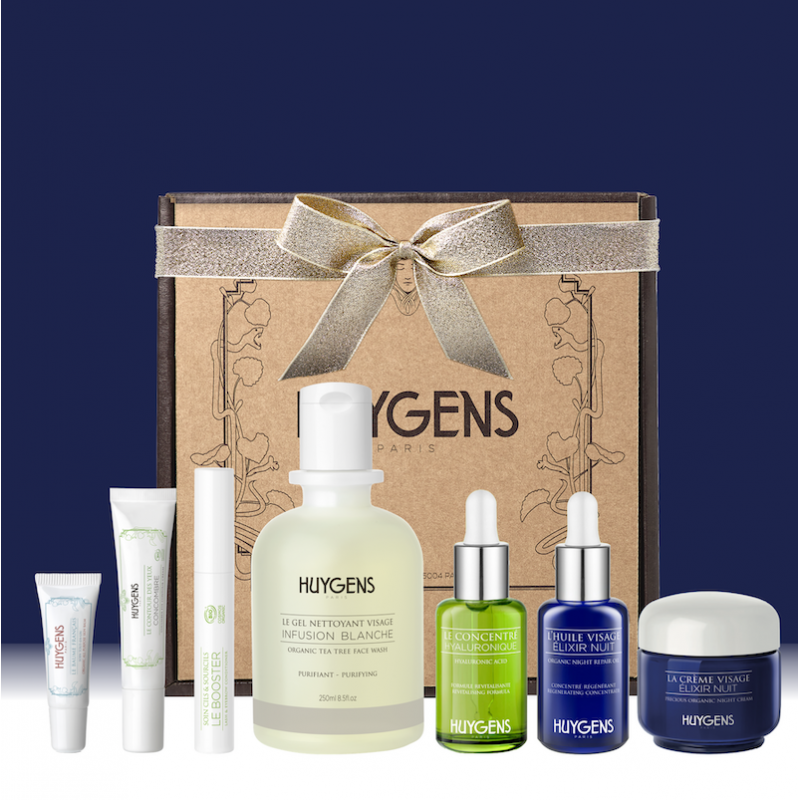  
ALL OUR BEST-SELLERS IN A GENEROUS GIFT BOX
Skincare Collector Set
---
Treat yourself to the most generous skincare set of the year! The Huygens Skincare Collector's Set consists of all our best-selling organic skincare products. The perfect gift for your loved one or yourself:
- Hyaluronic Acid Concentrate 30ml Revitalising morning serum. Hyaluronic acid & cucumber.
- Élixir Night Oil 30ml Skin perfecting dry oil. Argan oil & rosewood. 
- Élixir Night Cream 50ml Rich soothing cream. Collagen & hyaluronic acid. 
- Eye Contour Cream 15ml Targets puffiness, dark circles and wrinkles. Avocado oil & caffeine.
- Purifying Face Wash Infusion Blanche 250ml Gentry removes impurities without drying out the skin. Tea tree & aloe vera. 
- Eye Lash & Brow Conditioner 3,5ml Strengthens and revitalises. Castor oil & rice protein. 
- Le Baume Français 10ml All-in-on repair balm. Shea butter & coconut oil.
Valeur: 186€