ALOE VERA - Aloe Barbadensis Leaf Juice
Published : 04/10/2018 11:50:46
Categories : Ingredients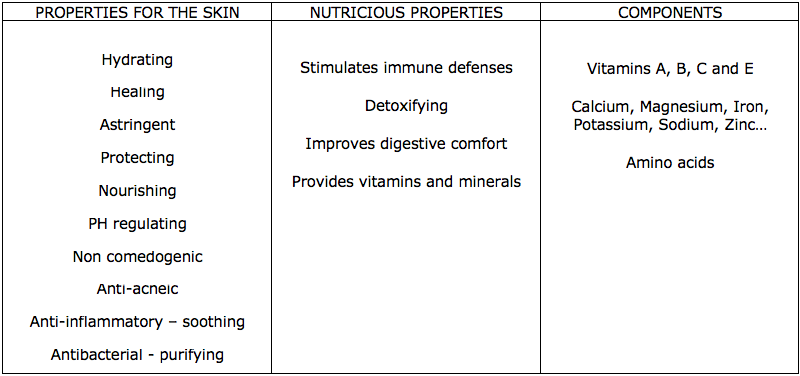 Aloe Barbadensis Leaf Juice
Aloe Barbadensis Leaf Juice
Aloe Barbadensis Leaf Juice
The properties
Aloe Barbadensis Leaf Juice
Aloe Barbadensis Leaf Juice
For over hundreds of years, Aloe Vera gel has been used for its instantly refreshing effect. Be it on insect bites, sun burns or sores, Aloe Vera gel (even in its pure state) is extremely efficient. It soothes warmth and soreness instantly and, when used regularly, even improves the healing process of the skin. It therefore does not come as a surprise that this gel is being widely used in modern cosmetic products for its cell-regenerative and soothing properties. Aloe Vera contains campesterol and bradykinin. Campesterol helps diminishing inflammations (redness, warmth, pain, swelling) whilst bradykinin has a positive effect on the microcirculation..
Due to its anti-inflammatory properties and the purifying mineral salts it contains (such as Zinc), Aloe Vera is also a precious ally against acne. It purifies the skin while acting against dehydration and inflammation. Hydrated skin becomes soother, and therefore reduces its production of sebum, which helps improve the appearance of acne-prone skins
One of the key properties of Aloe Vera is also its excellent affinity with the skin and the way it quickly penetrates into the different layers of the epidermis. Since Aloe Vera enables the water it contains to access cells of the deepest skin layers, its use on the skin guarantees an efficient and deep hydration. Enriched with nutritive elements, Aloe Vera is also very nourishing: it provides vitamins, mineral salts and amino acids to the epithelial cells and supports the cellular metabolism.
Besides all the properties mentioned above, Aloe Vera is also widely used in cosmetics due to its astringent power granted by the proteolytic enzymes its gel contains. Enzymes are big molecules which enable to activate chemical reactions. In this case, enzymes are specialized in the destruction of proteins (hence the name "proteo" the proteins, "-lytic" which break). Yet, a major part of our cells are proteins. Normally, cells resist to these types of enzymes thanks to their defense mechanism. However, the cells present on the external layer of our epidermis are dead skin cells. Therefore, besides acting as a protecting shield through the accumulation of layers of dead skin cells, these inactive cells do not contribute to the health of our skin.
By facilitating the elimination of superficial, dead cells, Aloe Vera contributes to the development of new skin cells and helps maintain an optimal cell renewal. The behavior of these enzymes plays a particularly important role in the healing process of the skin.
Aloe Barbadensis Leaf Juice
Aloe Barbadensis Leaf Juice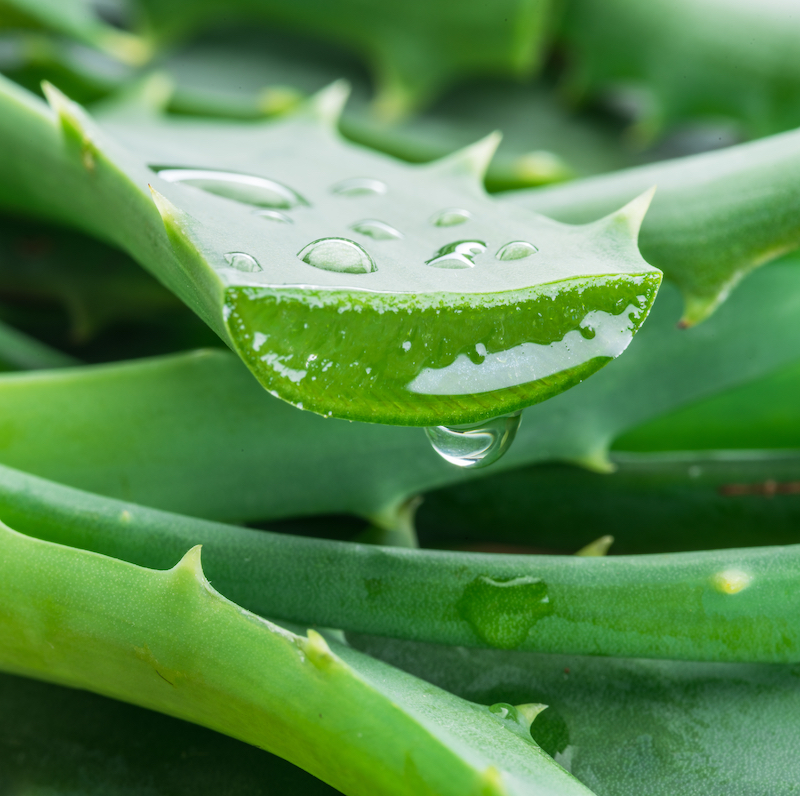 How to use it
Aloe Barbadensis Leaf JuiceAloe Barbadensis Leaf Juice
Aloe Barbadensis Leaf Juice
Aloe Vera can be used alone on skin and hair.
For hydrated and shiny hair, a 30 min mask of pure Aloe Vera gel is an excellent natural alternative (for those of you who have an Aloe Vera plant at home, use a spoon to extract the gel directly from inside the leaves). Be careful not to forget to use a natural shampoo and conditioner to rinse out the mask!
Aloe Vera can also be incorporated directly into cosmetic products. It can be used as an active, an ingredient offering specific properties to the product, or as a base by replacing water. In this case, it will give all its hydrating, nourishing and soothing properties by adding a great quality to the product: containing little, to no water (water is widely used in cosmetics but has very few properties).
Lastly, Aloe Vera gel can also be used as a food supplement. Highly enriched with vitamins, minerals and amino acids, the gel helps boost the immune system. Its anti-inflammatory properties also make the gel a good ally of the digestive system.
Aloe Barbadensis Leaf Juice
Aloe Barbadensis Leaf Juice
The plant
Aloe Barbadensis Leaf Juice
Aloe Barbadensis Leaf Juice
Aloe Vera is a succulent plant which grows in warm and dry climates. It is perfectly adapted to arid environments due to its capacity of storing water in its legendary gel. The plant, which grows directly on the ground or on rocks and looks similar to a cactus, has tall, flat leaves filled with a gelatinous, sticky substance. Even though it might not seem very appealing at first sight, this gel is the secret to the plant's survival. In its core, this gel contains all the water and elements, such as vitamins (A, B, C and E), minerals (magnesium, calcium, zinc…), enzymes, amino acids and fatty acids, the plant needs in order to grow.
To learn more about the plant : Wikipedia article
Aloe Barbadensis Leaf Juice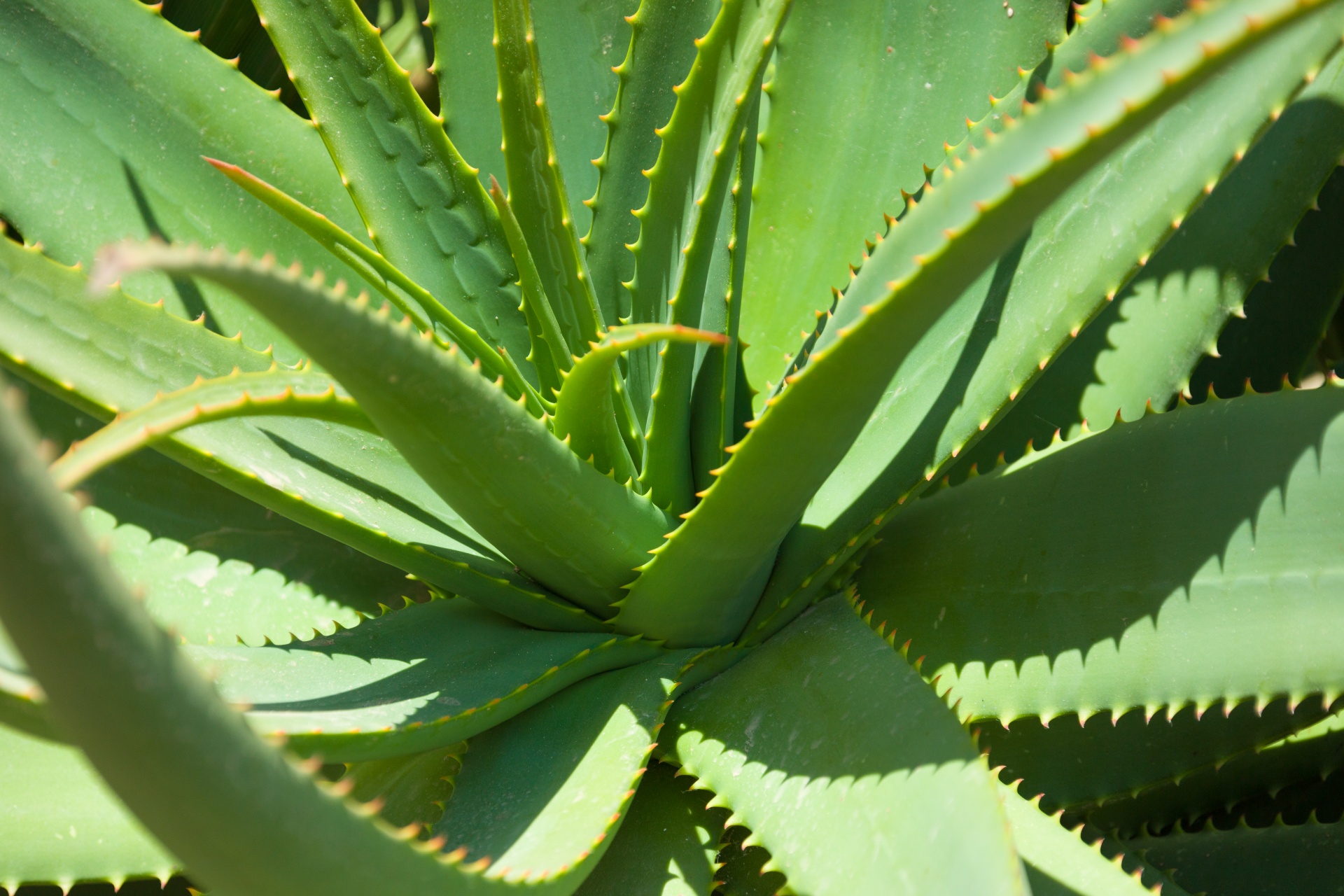 Aloe Barbadensis Leaf Juice
Aloe Barbadensis Leaf Juice
Did you know?
Over 61 000 tons
It's the annual worldwide production of Aloe Vera in order to satisfy the needs of the cosmetics and food supplements industries. This high number can be explained by the strong growth of the demand for natural and organic products.
Aloe Barbadensis Leaf Juice
Aloe Barbadensis Leaf Juice
Our star products containing aloe vera : 
- Supernature Moisture Gel-Cream : organic gel-cream which reveals a healthy glow and visibly reduces imperfections thanks to the green tea and silica. Its light texture penetrates instantly and matifies the skin. Suitable for sensitive skin.
- Hyaluronic Acid Concentrate : Revitalising fluid that awakens the skin. This gel serum refines the skin texture and ensures an optimal level of hydration to protect the skin from external agressions thoughout the day. Its light formula smoothens sleep lines and preserves the skin's youth.
L'équipe H.
The Huygens Team.
Share this content
Add a comment